Harvest 2017
Harvest 2017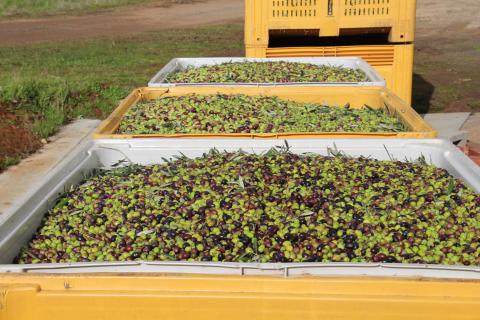 The rains in 2016 was incredible and bought many things to many places. Our farmers benefited from their crops our dams were full and the ground soaked up the water. At our Olive Grove the trees relished the drink they got. It was probably the best rain for them since they were planted in 1997. There has been massive growth on the trees as well as a bumper Olive crop. The harvest has been a bit lean over the last few years with below average harvesting and no Olives last year to pick at all due to the lack of rain.
The Olive Harvest for 2017 started in mid May. By the end of May we would have picked 5 tonne of Olives with probably the same amount still to pick in the next few weeks. We have family and friends helping, also a visit from the students of the Moonambel Primary School. The children had a great morning running from tree to tree filling their buckets with Olives. Some even tried the electric rakes which are used to pick the Olives.
The fruit that has so far been sent away for processing has produced some excellent quality Extra Virgin Olive Oil. They are big days out in the grove during picking and very tiring but the quality of the Oil is very pleasing.